2021-03-21
The 3 Online Essentials for Your Business
tags: Guide, Business, Marketing
Most traditional small businesses can run great with no online marketing, advertising etc.
When you're consistent and do good work, whether that's as a builder, hairdresser, personal trainer, dance instructor etc word of mouth and reputation run the show. Nothing from uncle google is necessary.
That said, in an age where even my old man - who didn't know what facebook was until last year, is sitting in the lounge saying 
"Hey google" *beep beep "Where can I get my haircut" 
Getting the basics of online marketing down is probably a good idea. 
Having a simple online presence will mean new customers may find you and existing customers will have a much easier time for follow up work or recommending friends. 
So I've put together 3 quick and easy solutions to get online, which are all free (Yay!).
Step 1: Google maps
First things first, when you beat your brother in a game of ping pong and suddenly need a hole in the wall plastered or the girlfriends work dinner is coming up and a manicure is "essential" - 
You want someone local for the work, right??
But if you don't already know someone, google is generally the easiest and fastest option to turn to.
A simple search for say "manicure", will bring up recommendations from Google Maps as the first recommendation.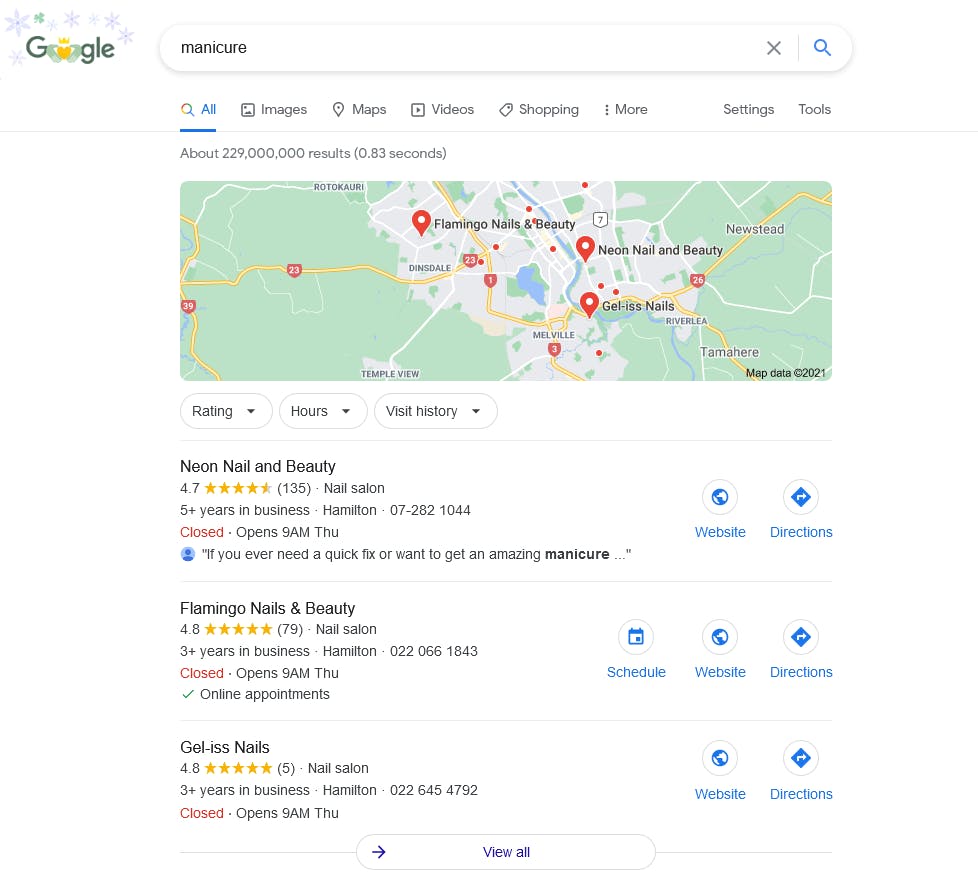 No websites, just businesses registered on google maps… and believe it or not, this is easy to set up. 
It takes about 5 minutes start to finish, the 6 step process can be found on my blog ("6 steps to business on google maps") just follow along and…
Boom! the first and most important things set up, ready to help your customers.
Step 2: Social Media
Now, social media is a much bigger animal.
There's whole businesses around social media management. Local heroes LeadSocial, involved with brands like New World and Good George, being clear examples showing the depth of work that can go into great community building, advertising and business positioning.
Creating accounts:
For smaller businesses I would recommend creating Facebook and Linkedin accounts with the correct information - company name, phone, email etc. Instagram is an option here too and may work well particularly for younger customers or more visual services in say beauty or technology.
Posting content: 
Regular post's of completed works, informative tips, special offers, team shenanigans, new employee write ups etc etc are all great. Photos, videos and captions with a bit of company personality  or really anything that helps your customers or shows your brand, products or services in a positive light is perfect here.
Optimization here is possible. Having a consistent brand voice, creating strategy or doing simple things like posting just before users are most active, say 1-3pm or on weekends over week days etc are awesome, but let's keep it simple.
Two good sayings to remember are:
1. "Don't major in the minors". A few posts a month for a small business is great! It shows your active and will slowly build a backlog of proof of work and trust with customers.   
And 2. "Nobody wants to read your shit", this ones a bit harsher but the idea is simple, don't be long winded and boring. Keep it fun, funny, interesting or informative and to the point.
Step 3: Websites (Google Sites)
If social media was a buffalo websites are an elephant. 
It's complicated. Getting a well done website built requires a fair bit of knowledge from marketing and design to technical development tools and software skills. It can be expensive and time consuming, for a quality website, realistically, you want to hire a monkey or two at least.
One of the best ways to get started without paying a dime or having a hostage showdown at the zoo is Google sites.
Google sites is a great tool for getting a clean design up quickly and easily… and did I mention it's free. If you're a hairdresser, small restaurant owner or really anyone who wants to cover their bases but can't quite commit to hiring a developer or working with an agency this would be my first recommendation.
If you followed along with the first guide for google maps/google my business then you may already have followed the prompts and gotten your free site up, if not I have a article (here) with a few extra tips and tricks to get the ball rolling in the right direction!